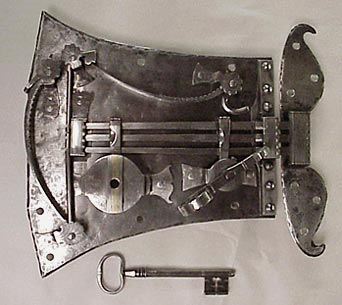 Maker of fine handmade replica
and custom designed locks and keys
for doors, wine cellars, cabinets, and fine furniture.
---
Located in southeastern Vermont,
Plumb Farm Workshops is a traditional
blacksmith's shop specializing in iron locks
for doors, furniture, and collectable art objects.
Please visit our Virtual Gallery, and
feel free to contact us if you have any questions.
Gallery | About Us | Ordering | Contact Us | Home
http://www.ironlocks.com Last updated 31-Dec-2016
© 2001-2017, Plumb Farm Workshops
Brattleboro, VT 05301 - USA
ironlocks@gmail.com